I'd like to thank http://www.hbo.com/city/cast/actor/kristin_davis.shtml for my information.


Kristin Davis has proven herself as a talented and versatile actress ever since her breakthrough role as the devious Brooke Armstrong on the long-running Fox Television series "Melrose Place." She now stars in a more intellectual role on HBO's Emmy and Golden Globe winning series for best television comedy, "Sex and the City."

On the popular "Sex and the City," Davis portrays Charlotte York, an innocent and extremely intelligent art dealer who constantly struggles with her inhibitions as she confronts New York's single scene. The show, created by Darren Star, also stars Sarah Jessica Parker, Cynthia Nixon and Kim Cattrall. Davis and the cast won a Screen Actor's Guild award for Outstanding Performance by an Ensemble in a Comedy Series in 2002. The series is based upon the 1996 novel of the same name by Candace Bushnell.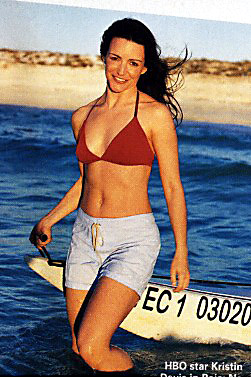 Davis' other television credits include the tele-films "Atomic Train, " "Deadly Vision," "Murder in Mind," "Three Days," and "The Ultimate Lie." She has guest starred on television series such as "Seinfeld," "Friends," "E.R.," "The Larry Sanders Show," and "The Heidi Chronicles."

Born in Boulder, Colorado, Davis moved to Columbia, South Carolina when her father, a Professor of psychology, transferred to the University there. She later attended Rutgers University and upon graduation moved to New York where she began working in classical and contemporary theater, as well as starring in commercials.

Davis splits her time between New York and Los Angeles.